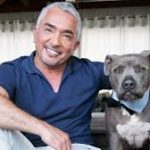 Cesar Millan, "The Dog Whisperer" is the special guest on my radio show on Monday, December 26, 5:00 – 6:00 pm PT. You can listen on www.AuraColors.com or 1290 AM Talk Radio in Santa Barbara. (The show will also re-broadcast on Sunday, January 1, 8:00 – 9:00 am New Year's Day)
Star of National Geographic Channel's celebrated "Dog Whisperer with Cesar Millan" and Nat Geo WILD's "Cesar Millan's Leader of the Pack," Cesar Millan is the most sought-after dog behaviorist in the world, recognized for his particular expertise in canine psychology.
Discover what Cesar shares about the importance of being a pack-leader. And how calm and assertive behavior is the key to a happy life – in your home, as well as with your dog.
Cesar is the author of the New York Times bestsellers "Cesar's Way," "Be the Leader of the Pack," "A Member of the Family," and "How to Raise the Perfect Dog," as well as the founder of the Dog Psychology Center.