Retreat to the Country
PAMALA OSLIE
RETURNS TO TEXAS
TWO DAYS OF WORKSHOPS
WITH PAM AT BLACKBIRD FARM
NEAR FAYETTEVILLE, TEXAS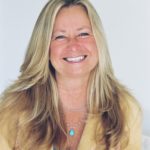 Pamala Oslie is an author, consultant, radio show host,
professional psychic intuitive, and aura expert. Pamala has
appeared on ABC, CBS, NBC, CNN, FOX, The View and many
other television and radio shows. She has also been featured
in many national magazines.
Pam has written four successful and popular books, Life Colors,
Love Colors, Infinite You and Make Your Dreams Come True,
and has a very extensive clientele. Pam has spoken at the
TEDx Talks, the International Forum on New Science,
Fortune 500 companies, and many seminars for professionals
in the psychology, education, health fields and more.
She will be hosting workshops and giving individual readings
in the comfortable surroundings of Blackbird Farm.
Meals will be included and overnight accommodations are
available. Please join us near Fayetteville, Texas, for a very
special time with Pam. For more information see the attached flyer.