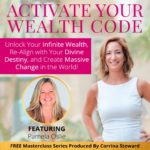 I am one of the speakers in this free Wealth Code Show who will give you tangible methods to activate your most abundant life. Wealth and abundance are your divine birthrights!
If you want to know the steps to access your wealth…
SIGN-UP HERE FOR FREE EXCLUSIVE ACCESS TO THE ACTIVATE YOUR WEALTH CODE SHOW 
In this show over 20 experts – Wealth Consciousness Teachers, Mindset & Intuitive Coaches, Wealth Energy Activators, Entrepreneur Coaches, Soul Purpose Coaches, Sacred Healers, Conscious Business Coaches, Ascension & Awakening Guides, Vibrational Realignment Experts and more – are going to show you how to:
Manifest abundance from your soul
Tap into the infinite wealth contained in your soul's design
Shift your mindset and your habits so you can manifest your divine destiny as a means of income
Create a life of wealth and legacy that makes a massive difference in the world.