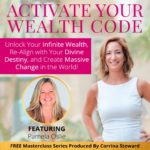 I wanted to share some news with you. I wanted to make sure you had an extra chance to watch all of the interviews, ESPECIALLY MINE, from the Activate Your Wealth Code Show that's ending today.
I care about you so much that I asked to have ALL of the interviews re-opened and the wish has been granted!  You now have 72 HOURS, starting Friday, February 15 to February 17 to view all of the interviews PLUS download the free gifts from me and all 20+ of the other experts. 
The show host, Corrina Steward, has also added an additional interview, and 5 BONUS experts sharing their free gifts with you!
Now is the chance to catch anything you missed, watch my interview and get those free gifts before they're gone for good. If you decide you want lifetime access to ALL of the videos plus the wealth activating bonus materials worth almost $4,000 from the show's producer Corrina Steward, you can do it before the price goes up again! 
I'm excited for you to have this time to soak in all of the wisdom that has been shared over the last 13 days!