Learn more about your amazing aura color here!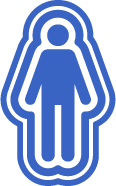 Beginners Indigo
Indigo is the most recent aura color to arrive on the planet. Indigos are ushering in a new energy, a new consciousness, and a new age of peace and harmony. Whereas Violets feel driven to help save the planet, to educate the masses, and to improve life here, Indigos are here to live as examples of a new higher awareness.
At this writing, most of the Indigos are children, although there are a few Indigos who came as forerunners years ago. The words used to describe Indigos include honest, aware, highly intuitive, psychic, independent, fearless, strong-willed, and sensitive.
Indigos are old souls who know who they are and where they've come from. Some consider Indigos to be bizarre. These assertive individuals are born with their spiritual memories intact. Many parents report that their Indigo children regale them with vivid details of past lives or recent encounters with spiritual beings. Parents also report that these children can read their minds and seem to have amazing psychic abilities. Parents are often at a loss as to how to raise these amazing little beings.
An unusual characteristic of Indigos is that they frequently appear androgynous. It is often difficult to tell if Indigos are male or female, homosexual, heterosexual, bisexual, or asexual. It's as if Indigos have both the yin and yang, male and female qualities within them. Their sexuality is not their primary concern however; it is their spirituality.
Want to find out more?
There is even more video, audio, and written information in the Beginners Indigo Aura Course and the Premium Aura Colors Courses.