Learn more about your amazing aura color here!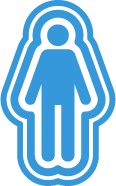 Beginners Blue
Blues are some of the most loving, nurturing and supportive personalities of the Life Colors. They live from their heart and emotions. Their purpose for being on the planet is to give love, to teach love and to learn that they are loved. Their priorities are love, relationships, and spirituality.
Blues are traditionally teachers, counselors, and nurses—basically the loving, nurturers and caretakers on the planet. Blues are constantly helping others. They want to make sure that everyone feels loved and accepted. People are always turning to Blues for comfort and counsel because Blues will always be there for them. They consistently provide a shoulder for others to cry on.
Blues are the most emotional personalities in the aura spectrum. They can cry at the drop of a hat. Blues cry when they are happy, hurt, angry, sad, or for no apparent reason at all. Even watching a sentimental commercial on television can bring on tears.
Want to find out more?
There is even more video, audio, and written information in the Beginners Blue Aura Course and the Personal Aura Colors Courses.