Learn more about your amazing aura color here!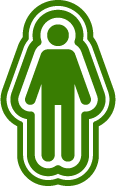 Beginners Green
Greens are some of the most powerful and intelligent people in the aura spectrum. Greens are extremely bright. They process information and ideas quickly; jumping from steps one to ten. They do not like dealing with all the steps and details in between.
A project that is too detailed is tedious and boring for Greens . They prefer to develop an idea, organize a plan, and then delegate someone else to take care of the details.
Greens are very drawn to money, power, and business. These quick-thinkers are very organized and efficient. They write lists and efficiently check off the items on the list as they are completed. Greens recognize patterns and discover solutions very quickly.
When Greens are in their power, they can accomplish anything. They love to set goals and are determined to achieve them. Greens are "movers and shakers" when it comes to taking action. They are also typically the workaholics on the planet.
Greens are highly competitive and enjoy challenges. They thrive on taking risks. Gambling is common for Greens , especially if there is a potential for large winnings.
Being strong-willed, these powerful personalities are determined to have their own way, which they usually feel is the right way. A person is rarely able to win an argument with Greens.
Want to find out more?
There is even more video, audio, and written information in the Beginners Green Aura Course and the Premium Aura Colors Courses.