Jeffrey Mishlove, a clinical psychologist and expert on parapsychology looks at the way history, folklore, and science shape the understanding of psychic abilities. H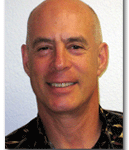 e believes that these and other psychic powers are not just for show, but are rooted in the essential core of our existence. Mishlove presents the viewpoints of both believers and nonbelievers as a further means of introducing the language and concepts of psychic functioning.
This show will rebroadcast on Sunday, May 29th, from 8:00 – 9:00 AM PT.