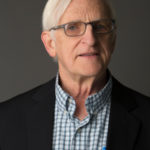 Matthew Fox talks on the subject of recovering the sacredness of the Earth and the difference it makes as the next stage of human evolution.
Matthew explores the capacity for our species to take this occasion of the crisis Mother Earth finds herself in to reinvent our ways of living and working on this planet. As the eco philosopher says, "hope is a verb with the sleeves rolled up." Clearly the Earth is a sacred Temple and we aren't treating it as wonderfully as it deserves and our future sustainability requires.
In this time of wars and unprecedented challenge to the planet from human-induced climate change, how will humans integrate the teachings about the awesome universe in a way that empowers our joy and compassion? Matthew talks about what it takes to be spiritual warriors on behalf of mother earth. This vocation constitutes the next stage of evolution in our species.
Matthew Fox is an internationally acclaimed spiritual theologian, an Episcopal priest, and an activist who was a member of the Dominican Order for 34 years. He holds a doctorate, summa cum laude, in the History and Theology of Spirituality from the Institut Catholique de Paris. He has written 31 books that have been translated into 48 languages and have received numerous awards. Among them are Original Blessing, The Coming of the Cosmic Christ, and The Reinvention of Work.