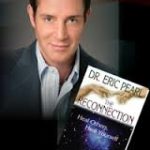 Science knows that the universe is expanding and speeding up as it expands! Discover fascinating information about how that's affecting us.
Dr. Eric Pearl "Reconnective Healing…. Healing really is that simple!" Join Dr. Pearl on my radio show, Monday, Aug 24, 5:00 – 6:00pm PT. You can listen on www.localhost/auracolors or 1290 AM in Santa Barbara.
Also learn how our bodies & our consciousness are more powerful than we know and how we are preventing ourselves from healing – on all levels – by using some of our current modalities.
We accept that the body can self-heal from cuts, bruises, or sprains. The universal intelligence that created this self-healing mechanism is available to us for more advanced forms of healing as well. We can learn to recognize, access, and create optimal conditions for this universal intelligence to work its wonders on the more complex cases of illness. Discover how healing is not necessarily what we expect and how we can heal immediately and spontaneously.
This show will rebroadcast on Sunday, August 30th from 8:00 – 9:00 AM PT